The Finnish Association of the Deaf receive equal Office 365 training
Equal education is easy to achieve when there is a genuine desire to understand different ways of learning. The Finnish Association of the Deaf gives three simple tips: pay attention, ask and try boldly!
A unique training project is underway at The Finnish Association of the Deaf to ensure equal Microsoft Office 365 trainings for all employees. Wistec Training was selected as a training partner after a tender procedure in autumn 2018.
"We had introduced Office 365 and needed a partner for training programs that would also meet the requirements of the EU Accessibility Directive. Our call for tenders included both on-site training and online training," says Susanna Silberstein, HR Coordinator of The Finnish Association of the Deaf. She continues:
"All in all, the supply of subtitled educational materials was rather limited and, the only reasonable offer came from Wistec Training. Their service met our demands for different ways of learning, equality and technical accessibility."
Digital services for everyone September 2019
The EU Accessibility Directive requires public sector organizations' online services and mobile applications to be accessible to all.
In The Finnish Association of the Deaf, respecting the accessibility directive and law obligations means that, for example, all online courses should be subtitled. On the other hand, short-term trainings require smooth meeting technology and precise operating models in a situation where, in addition to the trainer and the training material, there are also interpreters of sign language.
Training is based on careful planning and smooth cooperation
The aim of the training project was to find the best ways and means to train on Office 365 applications. The planning of the project began with a workshop for the key personnel, in which the content of the training and the tools were determined.
Furthermore, another essential thing in cooperation was the trainer. In changing situations the trainer´s responsiveness and flexibility were the key factors for a smooth cooperation.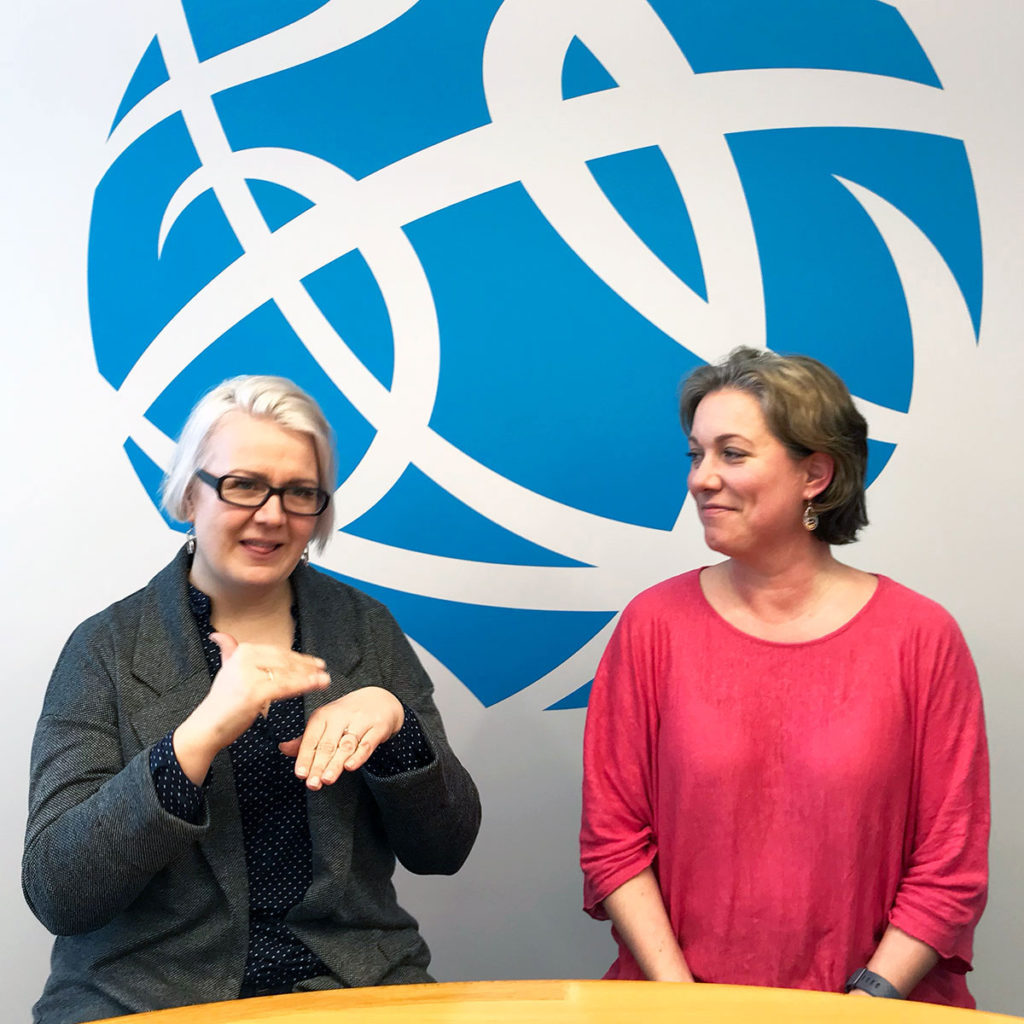 Tiina Hedrén and Susanna Silberstein / The Finnish Association of the Deaf
Education promotes parity and equality
The Finnish Association of the Deaf is a strong human rights organization that promotes the linguistic and cultural equality of the deaf people in Finland.
"Today, the communication debate is strongly linked to the fact that parity and equality can be promoted through education. The most important thing is a genuine desire to understand and take into account the different ways people learn and perceive things. It is always a good idea to try and ask your target audience how equality is best achieved. With Wistec Training, this co-operation was a great success, as things were learned in advance, and responses to on-the-spot suggestions were quickly acknowledged", says Tiina Hedrèn, Coordinator of The Finnish Association of the Deaf.
Susanna Silberstein sees a lot of opportunities in developing education:
"Sign language speakers are a rather small group that cannot be offered everything in sign language, but we need more comprehensive solutions. In addition to deaf people, training courses should be designed for a wider range of people, such as hearing-impaired people, immigrants or, anyone with difficulties with the spoken language. The question is above all about will and attitude."